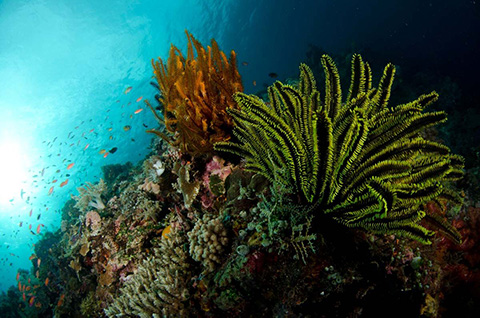 Professionally recognized as Advanced Open Water Diver course, this scuba diving certification is a program that requires training and dive experience based on prerequisites of specific recreational diver training agencies.
It is mandatory to complete the Beginner course prior to progressing to an Advanced level. This course aims to sharpen your scuba knowledge and skills by building confidence and expanding your existing skills through different dive sessions. You have the liberty to try different specialties while increasing your experience under the supervision of your instructor.
You will design a learning path with your instructor by choosing a set of dive sessions - two compulsory dives (Deep and Underwater Navigation) and three specialties of your own preference. The idea is to log as many dives to develop more scuba abilities as you discover your own way and style of diving.
Deep Dive will have you learn methods to deal with the physiological effects and challenges of deeper diving, while Underwater Navigation refines your compass navigation skills. The elective dives include photography, buoyancy control, fish identification, exploring wrecks and many more. Additionally, you will get accustomed to scuba equipment beyond the basic essentials.
Junior divers who are at least 12 years old and have completed the Beginner level can enrol in an Advanced course, although may only participate in certain dives.